Thursday, 12 July 2012 00:00

We have worked really hard for a long time. Now we couldn't be happier to finally release Mobile Joomla! Pro and Mobile Joomla Club for you to take your mobile world to the next level!
Mobile Joomla! Pro includes advanced features for those who want more features and better performance: Remote device detection, iPad support, Online device simulator, Backup & restore and more, all included in this amazing product.
You will love Mobile Joomla! Pro! Why? If all these great features are not enough, check out more reasons below:
No more large database space needed: Remote Device Detection doesn't require manual updates, and makes sure your mobile website always supports latest devices.
Test your mobile website on the fly on latest devices with online device simulator.
Backup, restore and transfer your Mobile Joomla! Pro settings and ease up your multi site management process.
Get faster page loads, reduce bandwidth usage, and offer smoother user experience with your responsive template
What's more, for those who want it all inclusive we have launched a special subscription package: Mobile Joomla! Club, which includes Mobile Joomla! Pro, Elegance Mobile Joomla! Template, JComments Mobile and Kunena Mobile Extensions, in addition to all free Mobile Joomla! extensions!
Check out the Mobile Joomla! feature comparison chart.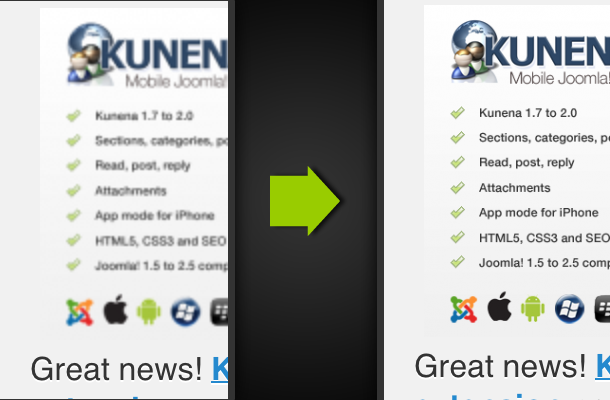 Above: Mobile Joomla! HD Image support
Crazy Launch Specials
To celebrate our biggest launch to date, we have arranged some crazy launch specials!
Purchase Mobile Joomla! Pro or Club and receive massive value pack!
If you are not among the first 20, don't worry; we have more crazy deals for you! For a limited time, if you purchase Mobile Joomla! Pro or Club, you will receive the massive value pack below! (Limited time only. Applies to both Mobile Joomla! Pro and Club plans, but offer package limited to 1 per customer)
Free 3 months hosting from the top Joomla! hosting provider CloudAccess.net
Free copy of Mobile Joomla! Official Insider's Guide ebook
30% discount on all AcyMailing products
25% discount on JoomlaBlogger's brand new ebook Blogging With Joomla!
25% discount on all OSTraining training plans
25% discount on all Joomla-Monster templates
30% discount on Admincredible multi-site management service
Thanks to all our friends!
We'd like to thank all our friends who help us to bring this crazy launch specials to you!

AcyMailing is a Joomla! component allowing you to maintain real communication with your contacts via e-mail marketing, newsletters, follow-up autoresponders, marketing campaigns, etc.
It is seamlessly incorporated into Joomla and provides professional features enabling you to keep you in permanent contact with your subscribers. Have you struggled with similar extensions in the past? AcyMailing will save you time and make your life easier.

CloudAccess.net - Your Joomla! site launched instantly. Just find a domain and go! CloudAccess offers Joomla! Platform-as-a-Service. You get hosting on premium equipment, managed backups, Joomla! phone support, email, and lots more.

Joomla-Monster.com is a unique online store for Joomla! end-users but, thanks to different subscription options, it becomes a really attractive platform for Joomla! based websites developers. Quality of our templates together with their functional capabilities can be appreciated while viewing their demo versions and tutorial movies. Our offer is varied and everyone will find something for themselves. Frequent and generous discounts are also worth mentioning.

OSTraining provides online, in-classroom, and on-site training for Joomla and more. Over 7,000 members learn with OSTraining online with a 1, 6, or 12 month subscription. OSTraining specializes in explaining Joomla in terms that anyone can understand. If you've ever struggled to learn Joomla, OSTraining is the answer with hundreds of videos and friendly support staff to answer all your questions.

Admincredible is one dashboard for all your Joomla 2.5 and 3 sites. Whether you have 5 Joomla sites or 500, you monitor them and update them with just one click of a button.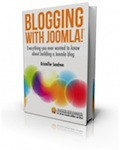 JoomlaBlogger is the site for Joomla! news and information since 2009. The brand new Blogging With Joomla! ebook reveals all the secrets learnt about using Joomla as a blogging platform also for numerous client sites. This knowledge can be used by anyone using Joomla!, not just those who want to build a blog.
Now download Mobile Joomla! and go check out Mobile Joomla! Pro product page for documentation and FAQ. If you have questions we are there to answer all your questions at Presales Forums before you buy Mobile Joomla! Pro.