Tuesday, 03 July 2012 00:00
Ladies and gentlemen, get ready to take your mobile web experience to a completely new level: We are proud to introduce...*drum roll*...Mobile Joomla! Pro!

Mobile Joomla! Pro is packed with great new features for our advanced users and will be launched as soon as next week. To get things even crazier, we decided to throw a big launch party together with our good friends. If you act fast, you will not only be amongst those to put hands on Mobile Joomla! Pro, but also enjoy exclusive benefits from some of the top Joomla! companies. We will reveal more about the very special launch offer shortly - follow us on Twitter and Facebook to get the edge!
In the meanwhile, let's take a look at some of the Mobile Joomla! Pro features. In the Pro version we have a great number of features that we know our heavy users will appreciate. We've listened to your feedback and needs, and our vision is clear where to take Mobile Joomla!.
Remote Device Detection
If there's one thing sure about the mobile market, it is that the rapid change won't slow down. Almost every day there are multiple new devices launching in the market, meaning that you need to do constant updates to your device database to make sure new mobile devices are recognized correctly. However, Mobile Joomla! Pro makes your life a lot easier, using our own server based device detection that always has your back - so you will have guaranteed support for all new devices with no more manual device database updates!
Online Device Simulator
Testing mobile websites has always triggered many questions on our forums. We've now implemented a tool that will make it a lot faster and easier to tweak your site - with the mobile device simulators included in the Mobile Joomla! Pro backend you can check how your changes affect your site on the fly!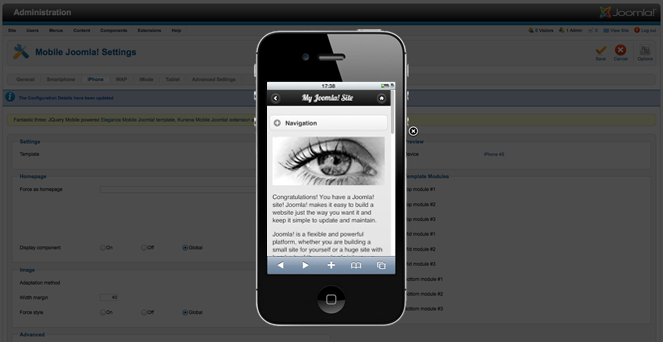 Tablet/iPad Support
For those who also want to serve a customized template to tablets, we now have the option for you! Trigger the switch and Mobile Joomla! Pro will show iPad and other tablets an optimized website instead of your standard desktop site.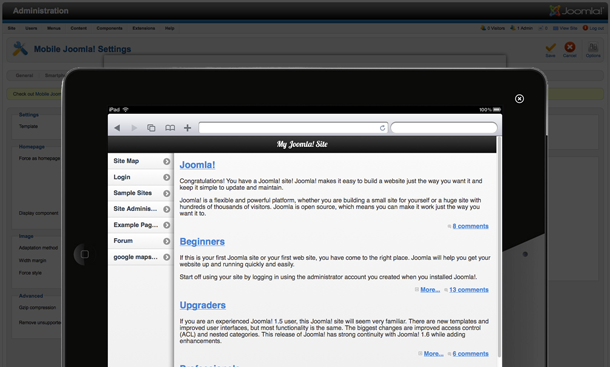 HD/Retina Images
Apple introduced the hi-resolution "Retina" screens to iPhone and iPad - now you can use hi-res images with Mobile Joomla! Pro without an extra hassle for the greatest user experience. Mobile Joomla! Pro engine takes into account the real screen resolution, so rescaled images will display with the best quality on the device.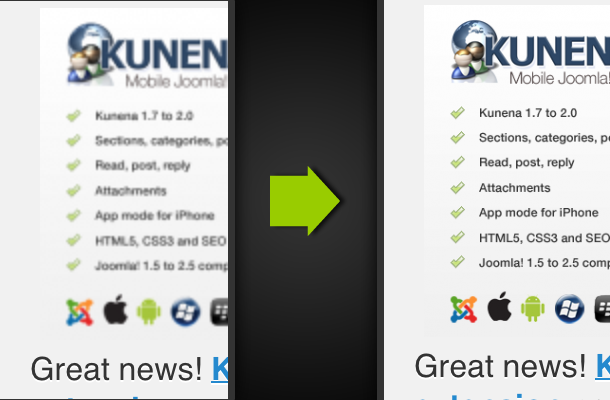 Backup & Restore Settings
With Mobile Joomla! Pro you can easily backup and restore your Mobile Joomla! Pro settings. Great feature also for admins and web developers who often have to migrate/copy their setup to use on different client projects.
No Support Ads
As you know Mobile Joomla! comes with Support Ads by default at the bottom of each page. In Mobile Joomla! Pro you won't get these ads by default.
Premium Support
As a Mobile Joomla! Pro user you will get access to our premium Pro forum to make sure you get the best help for making your mobile website shine.
Now download Mobile Joomla! and go check out Mobile Joomla! Pro product page for documentation and FAQ. If you have questions we are there to answer all your questions at Presales Forums before you buy Mobile Joomla! Pro.