Monday, 07 January 2013 00:00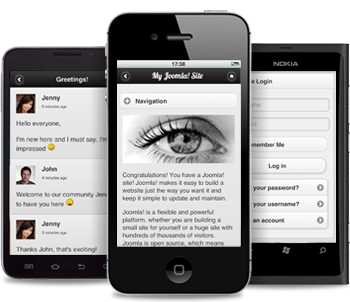 Hey all, we hope you've had a great start into 2013 so far! Last year was awesome for us - we couldn't be happier with the progress we made. We launched several new products, including Elegance Mobile Joomla! template, Kunena Mobile Extension, JComments Mobile extension, and of course Mobile Joomla! Pro and Club. Huge thanks to all of you over thousand premium users who have trusted us so far!
What's most important, our community has continued to grow amazingly fast! We want to thank you all for your feedback, both positive and constructive. It motivates us to keep on improving our products further.
Mobile Joomla! Highlights From 2012
We released 11 version updates to the Mobile Joomla! standard version
We released 8 version updates to the Mobile Joomla! Pro version
We released 27 version updates to the Mobile Joomla! Elegance template
We released 10 version updates to the Mobile Joomla! Kunena and JComments extensions
We released Responsive Template Analyzer to test how much your responsive site could gain with Mobile Joomla! and RESS
Responsive Joomla!
In some arenas, the year 2013 has been claimed to be the year of responsive design. Responsive Joomla! templates are indeed growing in popularity and we are happy with the focus on mobile. However, as we stated before - for the sake of all your mobile visitors, optimizing responsive templates on server-side is an essential step. If you missed our Responsive vs. Server-side Mobile Solutions Infographic, check it out!
Otherwise, we're looking forward to Joomla! 3+ gaining wider adoption this year. The mobile-ready Boostrap features of Joomla! 3 combined with Mobile Joomla! server-side device detection and optimization will ensure your Joomla! 3 sites will rock on mobile like never before!
Finally, for the beginning of this year, we have two new product announcements.
Update To Remove Support Ads Module
As you know, to support the development, Mobile Joomla! displays unobstructive support ads, which has been made possible to remove with a free extension. For a long time, we have been receiving a lot of requests for a way to donate to Mobile Joomla! in exchange for using our Remove Support Ads extension. From the beginning of this year, we made the Remove Support Ads extension available for a reasonable, one time fee.
We understand many of our avid users get much more value than that from the Mobile Joomla! extension, but if you want to support us, you can always opt for our other paid products. Our Elegance template, as well as Pro and Club users continue to get the extension included as part of their subscriptions.
Mobile Joomla! Official Insider's Guide Ebook
This is an ebook we wanted to do for a long time, and we were finally able to release in December. With 120 pages, the ebook is a complete how-to manual for Mobile Joomla! and explores the details of all aspects of the extension, as well as tips and tricks for customizing and tweaking it for your needs. The Guide comes included with the Elegance template purchase, and in our Pro and Club subscriptions. Other Mobile Joomla! users can buy it here: Mobile Joomla! Official Insider's Guide
Special Offer!
We are offering a bundle of the Remove Support Ads module and the Official Insider's Guide ebook for a total price of $29.90 for a limited time! That's savings of $29.90 compared to the normal prices of the products. Get yours now!
That's all for now! We'll finish with a question: What would you like to see from us in 2013?