Wednesday, 04 July 2012 00:00
Happy Independence Day to all our U.S. friends! We haven't stopped for the summer and keep on working hard: Let the new updates & improvements keep rolling in! This time we would like to announce that we just released a major update 1.1 to Elegance Mobile Joomla! template! There are enough improvements there that some guys might have released a whole new template, but we have included everything into Elegance - so if you purchased Elegance Mobile Joomla! template earlier, you will get all of these new features for free!
If you haven't got the JQuery Mobile and HTML5 powered Elegance Mobile Joomla! template yet, check out our previous showcase interview and use your phone to visit some of these sites that use Elegance.
Example sites using Elegance Mobile Joomla! template:
Here are some highlights from Elegance Mobile Joomla! template 1.1 update:
jQuery Mobile ThemeRoller Support
Elegance 1.1 has native support for themes generated with ThemeRoller for JQuery Mobile. Now you can easily generate your own color themes and use them on your website with Elegance template.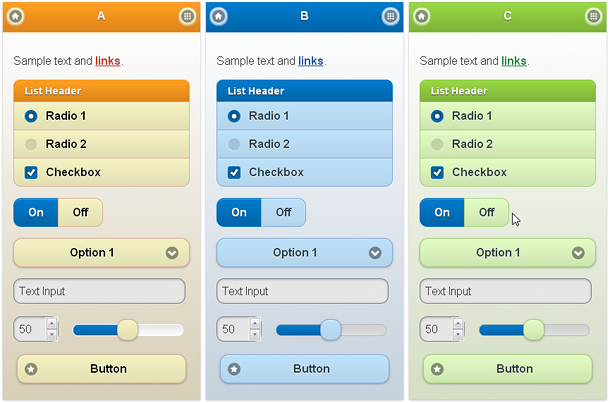 Major Page Load Speed Up
Mobile websites should be as agile as possible, so we have significantly improved page loading time. Test on Joomla! 2.5 website with demo data and default Mobile Joomla! settings shows 20% improvement for first page load, and 60% for subsequent AJAX-loaded pages.
New Transition Effects
4 new page transition effects are added to Elegance: Flip, Turn, Flow, and Slide Fade.
Improved AJAX Page Navigation
We reworked the AJAX navigation of Elegance to make it faster and more compatible with 3rd party extensions.
!! Important note about Upgrading Elegance from 1.0.x to 1.1 !!
There should be no problem upgrading Elegance 1.0 to 1.1, but we recommend you to backup your current Elegance template, especially if you have made any significant changes to the JS/CSS files. Also note that if you used custom_preload.txt files, you can remove most or all entries from them, because the updated AJAX navigation loads necessary JS/CSS files on the fly.
Oh by the way, tomorrow we will reveal something cool about Mobile Joomla! Pro, stay tuned ;)