Friday, 18 May 2012 00:00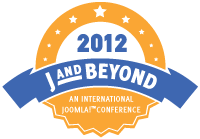 We are participating in J and Beyond (or "JaB"), the biggest international Joomla! event taking place this weekend (!) in Germany.
There are 6 keynotes and 75 sessions hosted by over 70 speakers. The event will also host the Joomla Open Source Creative and Artistic Recognition awards (J.O.S.C.A.R.), to recognize the very best talent in the Joomla community.
With your support, Mobile Joomla! has been nominated in the Free Joomla Add-ons category!! The participants of the conference have now chance to vote for the winners. We're humbled and very happy to be among nominees, no matter of the outcome. Thank you all our supporters!
To share the excitement and to thank you for the support, you can get -15% off of all Mobile Joomla! products - JComments and Kunena Mobile Joomla extensions and Elegance Mobile Joomla template - with the code MJJABGPEX15 at checkout! It's valid until May 22. Please share the love!
Finally, even if you couldn't make it to the event, did you know that you can watch the J and Beyond livestream?
You can keep on the pulse also by following the Twitter hashtag #jab12.
Have a great weekend!