Tuesday, 17 April 2012 00:00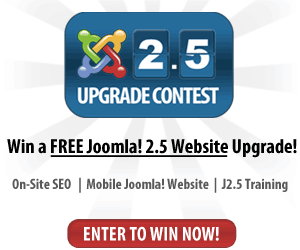 Great news! Here is your chance to win an extreme makeover for your Joomla! website!
We at Mobile Joomla! have partnered up with some of the world's top Joomla! companies to provide an opportunity of a lifetime for one lucky Joomla! user. 
You may know that Joomla! has entered a new age with the latest version Joomla! 2.5 launched in January this year. Consequentially it's been announced that Joomla! 1.5 and 1.7 have reached the end of their lifecycles, and only major security fixes will be done for both until release of 3.0 in September 2012. So considering a 2.5 upgrade rather soon might be a good idea.
The winner of the "Joomla 2.5 Upgrade Contest" will get their Joomla! site completely rebuilt, enhanced, and SEO-optimized on the new Joomla 2.5 platform. In addition, the winner will also receive a premium mobile Joomla! website and Joomla! 2.5 training courses.
Mobile Joomla! will specifically grant the winner free licenses of the JQuery Mobile based Elegance Mobile Joomla! Template, Kunena Mobile Joomla! Extension, plus our other upcoming premium products.
Entering to win is free, easy, and open to anyone who has a Joomla! website - simply visit the contest website to participate!
All entries must be submitted by Wednesday May 16, at 11:59PM. The winner will be announced on May 31.
Joomla! companies involved in this promotion:
Good luck everyone!!