Wednesday, 11 April 2012 00:00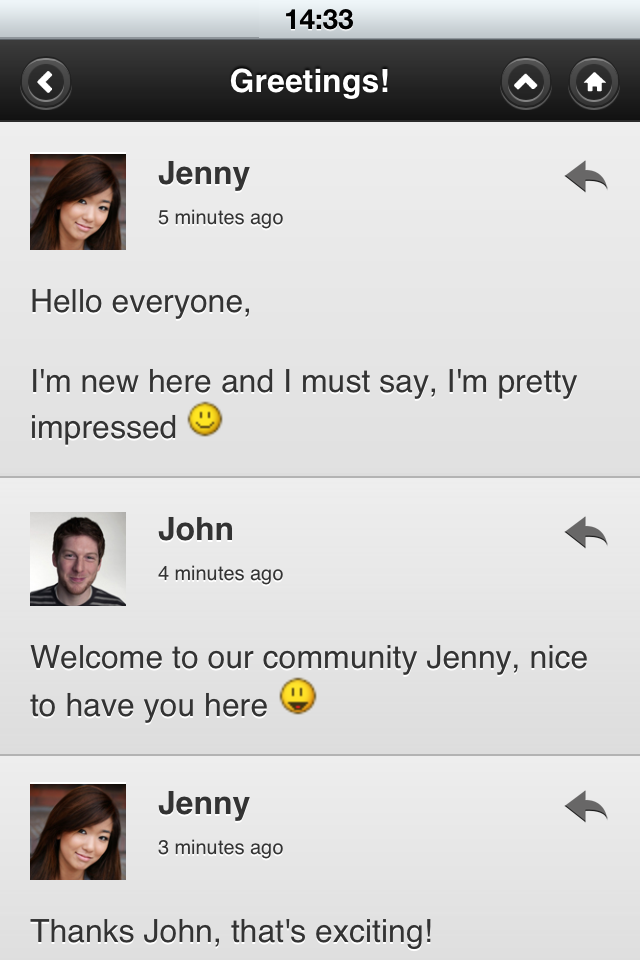 Yee-haa! You want it, you got it! Your favorite Joomla! forum extension Kunena has landed on Mobile Joomla! Now your Kunena forum will also rock iPhone, Android, Windows Phone 7, and countless other phones. We are proud to offer Kunena Mobile Joomla! Extension in cooperation with the Kunena core team.
This premium extension will turn your desktop web Kunena forum into stylish and gorgeous kick-ass mobile version. View sections, categories, and posts; read, post, and reply; view attachments. It's all HTML5 and CSS3 powered by JQuery Mobile and our Elegance Mobile Joomla! template.
Highlights and key features:
Both Kunena 1.7 and soon-to-be-released 2.0 are supported
Displays sections, categories, child categories, posts
Allows read, post, reply
Displays Attachments
iPhone App mode for the front page
HTML5, CSS3, SEO
Joomla! 1.5, 1.6, 1.7, 2.5 compatible
The extension comes with a full year of priority support, documentation, and continuous improvement. Kunena Mobile Joomla! Extension has been designed and developed in cooperation with the Kunena core team. Your each Kunena Mobile Extension purchase will support their development.
If you want to see how the extension looks like, just navigate to www.mobilejoomla.com with your mobile phone and browse our forums. We naturally use it ourselves.
Kunena is the first Mobile Joomla! supported forum extension. We will continue to add more of your favorite Joomla! extensions to our library. If you are a Joomla! extension/template provider and interested in getting top grade mobile support, send us a note!
Free Kunena Extension winners
Thanks to hundreds of supporters who participated in our Kunena campaign! We drew 3 people among the participants and contacted them on Twitter. They'll all receive a free Mobile Joomla! Elegance+Kunena bundle. Those who participated but didn't win - watch your Twitter inbox for our special thank you treat!
Launch Offer!
Get Kunena Mobile Joomla! Extension now for -30% with promotion code MJKLP30GEIOD - valid until the end of Monday April 16th!