Wednesday, 04 April 2012 00:00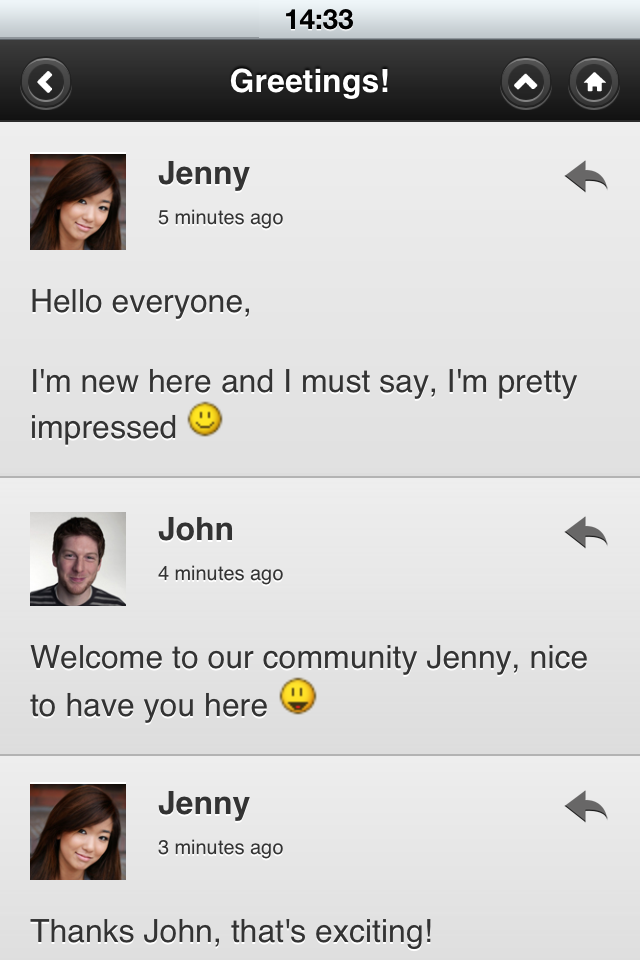 Can you feel it in the air...?! A few days ago we told you about Kunena Mobile Joomla! Extension. Your wait won't be long anymore, as it will be released during next week!
Today we will introduce the extension in more detail and announce an exciting competition! You can win your very own free Kunena Mobile Joomla! Extension and Elegance Mobile Joomla! template by participating (check instructions below).
Over time, we have been requested to support a big number of extensions, and Kunena has always been one of the most-asked-for. We thought it's finally time to make it happen, and obviously the right way to do it was to collaborate with the Kunena core team.
So we partnered with Kunena and now present the only Mobile Joomla! supported forum extension, offering the best HTML5 mobile user experience for your community!
Highlights and key features:
For Kunena 1.7 to 2.0
Sections, categories, child categories, posts
Read, post, reply
Attachments
App mode for front page
HTML5, CSS3, SEO
Joomla! 1.5, 1.6, 1.7, 2.5 compatible
Kunena Mobile Joomla! Extension is designed from the ground up for the most common mobile use cases. We've spent many hours carefully designing it to provide high performance and quality that we are really happy with. 
The extension comes with premium support, documentation and continuous improvement. To ensure high performance and beautiful look and feel using JQuery Mobile, the Kunena Mobile Joomla! Extension requires Elegance Mobile Joomla! Template to work. By purchasing you will support Kunena's core extension development.
Participate and WIN!!
To make a good use of your time while waiting for the launch, participate in our competition to win 3 free licenses to Kunena Mobile Joomla! Extension + Elegance Mobile Joomla! Template bundle!
Like in our previous competition, we will keep it clear and simple - please follow the instructions below.
Only thing you need is a valid Twitter account and if you'd like to double your chance, a Facebook account.
Win a free #Kunena Mobile #Joomla! extension + Elegance Mobile Joomla! template: Just retweet! - bit.ly/kmje12

— Mobile Joomla! (@MobileJoomla) April 4, 2012
Follow us on Twitter by clicking the "Follow" button above or this link
Retweet our Twitter message by clicking "Retweet" button above or this link
If you would like to double your chance, like Mobile Joomla! and this post (click 'Like' on top of this article) on Facebook.
If you would like to triple your chance, leave a comment below and tell us which site should mobilize their Kunena forum using this extension. 
Rules:
The contest will run until end of Monday April 9th, 23:59 PST. 
We accept only one entry per person. Naturally you need to adhere to the Twitter rules.
We will randomly draw the winners in our sole discretion from legitimate entries and contact them via Twitter direct message.
You are responsible for complying with the laws and regulations of your country. Void where illegal.
Good luck!