Thursday, 15 March 2012 15:31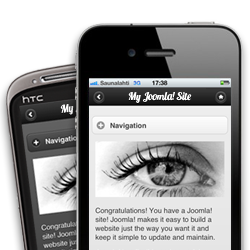 The wait is over! Our first premium product Elegance Mobile Joomla! Template based on JQuery Mobile framework is available now!
We have spent a lot of time designing and implementing our product to be able to bring you the finest quality mobile Joomla! template. The user experience has been optimized to a completely new level, and every aspect has been polished to the smallest detail. All in valid HTML5, CSS3, and JavaScript naturally.
Elegance comes with one full year of updates (we've got a solid roadmap of new features planned already) and access to priority support forum to make sure you get the most out of your new template. Elegance is also compatible with all upcoming Mobile Joomla! Extensions. For more details, check out the Elegance Mobile Joomla! Template page.
Free Elegance winners
Thanks to hundreds of supporters who participated in our launch campaign - we love you! We drew 5 people among the participants and contacted them on Twitter for their free Elegance template. We will also announce their very special gift tomorrow. Congrats!
Those who participated but couldn't win, we didn't forget you! Watch your Twitter inbox for our special thank you treat!
Thank you!