Tuesday, 06 March 2012 16:00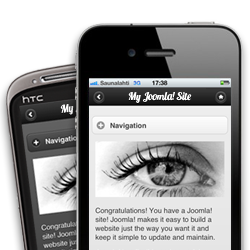 We are super excited to introduce Elegance, our first premium Mobile Joomla! template based on JQuery Mobile framework!
A lot of hard work has gone into design, implementation, and crafting all small details to bring you a solid mobile template of the finest quality, a true mark of mobile design craftsmanship and elegance.
Some may have seen this coming based on the couple of sneak peek posts we released last week. Well, we just couldn't wait any longer! Check below for more details and screenshots.
Best of all, Elegance Mobile Joomla! will be released as soon as next week!
Highlights and key features:
Compatibile with Joomla! 1.5, 1.6, 1.7 & 2.5
6 different color schemes
5 different AJAX animations for page transitions
9 customizable module positions
Displays beautifully on iPhone, Android, Windows Phone, Blackberry and other major devices
Custom logo - You can display a custom logo, title or both.
App mode - Let anyone add your site on iPhone home menu & browse full screen.
Mobile Search Engine Optimization
Valid HTML5, CSS3 & JavaScript
Based on rock solid JQuery Mobile framework
Open source, fully customizable
Full compatibility with all Mobile Joomla! Extensions
Full documentation, premium forums, continuous improvements & updates
Liked it? Check out screenshots at the bottom of this page!
Wait - it gets better!
To share our excitement, we would like to give away 5 free Elegance licenses plus a very special gift package. You could be one of 5 lucky people by simply following 3 simple steps below. Only thing you need is a valid Twitter account and if you'd like to double your chance, a Facebook account.
Win a free Elegance Mobile #Joomla template featuring #jquerymobile: Just retweet! - bit.ly/emjtem12

— Mobile Joomla! (@MobileJoomla) March 6, 2012
Follow us on Twitter by clicking the "Follow" button above or this link
Retweet our Twitter message by clicking "Retweet" button above or this link
If you would like to double your chance, like Mobile Joomla! and this post (click 'Like' on top of this article) on Facebook.
Rules:
The contest will run until end of Monday March 12th, 23:59 PST.
We accept only one entry per person. Naturally you need to adhere to the Twitter rules.
We will randomly draw the winners in our sole discretion from legitimate entries and contact them via Twitter direct message.
You are responsible for complying with the laws and regulations of your country. Void where illegal.
Good luck!
Screenshots