Tuesday, 23 April 2019 22:43
We have just released Mobile 2.1.36 and updates to all our premium templates: Mobile Elegance 2.0.23, Mobile Flat 2.0.21, Mobile Square 1.0.15, and Mobile iOS9 1.0.16.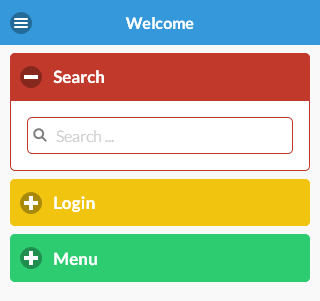 Mobile Joomla! 2.1.36 fixes work in disabled "Optimize CSS" mode, fixes "Load MooTools" option in Mobile Basic template for Joomla! 1.5 (yes, we are still releasing such bug fixes), and all our mobile templates (preinstalled Mobile Basic and above-mentioned premium ones) now supports swatch-* parameter (where "*" corresponds to a swatch letter supported by template) in the module's class suffix. This suffix allows you to change color theme of modules (see example on the right for the Mobile Flat template where Search, Login, and Menu modules have "swatch-d open", "swatch-e", and "swatch-g" class suffixes, correspondingly).
As always, you can update to the new version from your administrative panel via the Mobile Joomla! Remote Update feature, or by downloading the Mobile Joomla! package and installing it from the backend. Do not forget to backup your website before the update!
​
Remember to subscribe to our RSS feed, follow us on Twitter and like our Facebook page to keep on top of all latest Mobile Joomla! news.