Sunday, 01 September 2013 00:00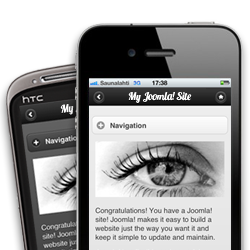 We have released new versions of our templates: Flat Mobile Joomla! template 1.0.10 and Elegance Mobile Joomla! template 1.3.6. There are a lot of changes and improvements, in particular:
Support of FitVids script for responsive videos. Previous versions of Elegance and Flat rescaled videos (to fit screen width) using css rules that sometimes led to incorrect aspect ratio. FitVids does some magic to keep aspect ratio. Note that FitVids is disabled by default (for backward compatibility and to reduce total page size).
Support of Lazy Images Loading. This technique allows to load images that are visible on the screen only, and other images will be loaded on demand when user scrolls to them.
Support of different CDN providers for loading of jQuery/jQueryMobile: jquery.com, aspnetcdn.com, jsdelivr.com, cdnjs.com, yandex.ru. Detailed comparison will be published later, but you can choose one that's fastest for your site/location.
All template's javascript files were reminified (recompressed) using Google's Closure Compiler (some files have been reduced by up to 50%).
Update to add2home library (added support of iOS7).
Other minor fixes.
All these changes make our premium templates Flat and Elegance even faster and more responsive than before. We hope you enjoy this release!
Should you find any issues in our templates, or have a feature request, please post it on Premium Support Forum.