Friday, 30 November 2012 16:30
Note: this is Part VI of our 8 part series introducing desktop tools for testing mobile sites.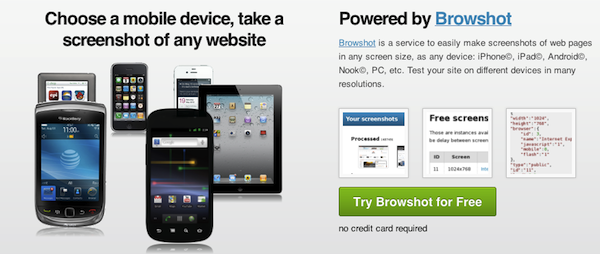 It's been a while since we posted our last tip on this series. But we're not finished yet! Today we'll proceed by introducing Browshot.
Browshot is a service to easily create screenshots of web pages in any screen size, as any device: iPhone, iPad, Android, Nook, PC, etc. The service is simple to use: you get to select a mobile device, the screen orientation, and then you can request a screenshot of any website. The shot will be generated using the Browshot's virtual browsers and delivered to you almost instantly (they mention an average of 15 seconds).
There are a few limitations, however: First, there's a quite limited set of mobile devices; Second, apparently the screenshots are cached for 24 hours, so same day changes with the exactly same URL won't show up (this could be bypassed by adding empty parameters to the URL, or using their API). For high-volume customers the firm also offers customizable browser setups (e.g. any screen size ratio).
Works on: Any browser
Requirements: N/A
Price: Browshot uses credits system for paying for the screenshots. Mobile shots take 2 credits. You can get 20 credits for free for signing up to their newsletter and sending a tweet. Credits are sold in packs starting from $1 per 10 credits and up to $1,000 per 300,000 credits.
Pros
Very easy, simple, and fast to use (the average time, including page load, to finish a screenshot is just 15s).
Affordable pricing for small batches.
Configurable - each feature (Flash/HTML5/CSS/JavaScript/Image loading) can be enabled and disabled on demand. They also have an API.
Cons
Limited device selection.
Iterative development difficult with only screenshots - also, the service caching can be a nuisance.
Do you have your own tips or comments, or have we missed something? Let us know in the comments below!