Tuesday, 08 May 2012 00:00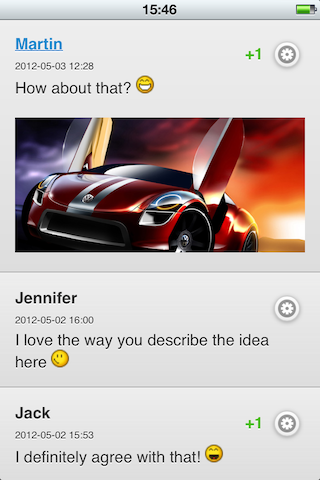 Wham!! Just like that, Mobile Joomla! Extensions Directory now has a new member. We are extremely happy to announce that JComments Mobile Joomla! Extension is now available!
Free your community from their desktops and let them keep interacting on the go - this premium extension will adapt JComments for iPhone, Android, BlackBerry, and other smartphones. We are proud to offer the JComments Mobile Joomla! Extension in cooperation with the Joomlatune core team.
We have overcome many obstacles and challenges in developing the extension and we are proud of the outcome. As usual, we've spent a great deal of time in designing the user interface and tailored it for the most typical mobile use cases. You can read, write, reply with quote, like, dislike, and view attachments in comments. All is HTML5 and CSS3 powered by JQuery Mobile and our Elegance Mobile Joomla! template.
Highlights and key features:
JComments 2.3.x and further
Read, write, reply, reply with quote, like and dislike
Attachment support for mobile
Displays Attachments
iPhone App mode for full screen browsing
HTML5, CSS3, SEO
Joomla! 1.5, 1.6, 1.7, 2.5 compatible
Full compatibility with all Mobile Joomla! Extensions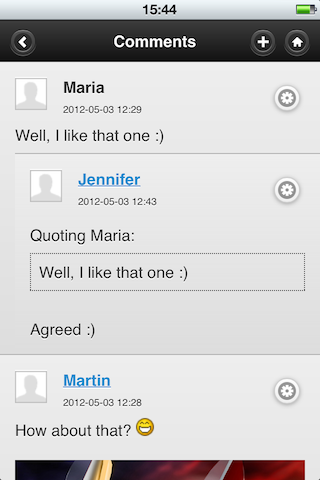 For more screenshots, please check out the JComments Mobile Joomla! Extension product page.
The JComments mobile extension comes with a full year of priority support, documentation, and product improvement updates. JComments Mobile Joomla! Extension has been designed in cooperation with the JoomTune core team, and your each purchase will support their development.
If you want to see how the extension looks like, just navigate to www.mobilejoomla.com with your mobile phone and browse to the blog!
We are continuously adding more supported Mobile Joomla! extensions to our directory. If you have a favorite Joomla! extension you would like us to add, or if you are a Joomla! extension or template provider interested in getting robust mobile support in place - send us a note!
Ready? Check JComments Mobile Joomla! Extension now!