Mobile Joomla! Pro
So far, we have gone through the standard Mobile Joomla! features. In this chapter, we will go through Mobile Joomla! Pro in detail. We will cover the installation steps and configuration. Then, we will review the features of Mobile Joomla! Pro. Finally, we will cover the uninstallation steps.
Overview of the Features
Mobile Joomla! Pro includes advanced features for those who want more and better performance: Remote device detection, Tablets support, Online device simulator, Backup & restore and more.

Advantages of Mobile Joomla! Pro:
No more large database space needed: Remote Device Detection doesn't require manual updates, and makes sure your mobile website always supports latest devices.

Test your mobile website on the fly on latest devices with online device simulator.

Backup, restore and transfer your Mobile Joomla! Pro settings and ease up your multi site management process.

Get faster page loads, reduce bandwidth usage, and offer smoother user experience with your responsive template.
Next, let's take a look at some of the specific Mobile Joomla! Pro features.
Remote Device Detection
If there's one thing sure about the mobile market, it is that the rapid change won't slow down. Almost every day there are multiple new devices launching in the market, meaning that you need to do constant updates to your device database to make sure new mobile devices are recognized correctly.
However, Mobile Joomla! Pro is aimed to make your life a lot easier, using our own server based device detection that always has your back - so you will have guaranteed support for all new devices with no more manual device database updates!
With regular Mobile Joomla! releases, we also add newly introduced devices to the device database. However, Remote Device Detection feature coming with Mobile Joomla! Pro ensures that your mobile website will always display seamlessly with every new device out there, as they are introduced to the market. Also, you can reduce the size of your server SQL database used to store handset data.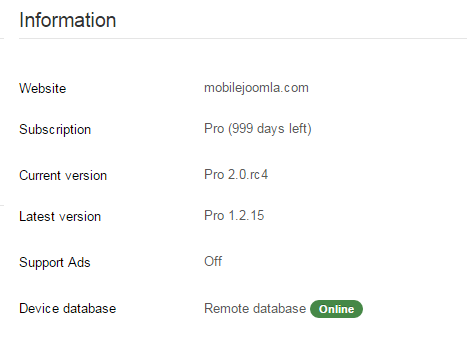 Remote Device Detection is activated as you install Mobile Joomla! Pro. Please note that, your server shall support remote device connections, in order Remote Device Detection to work. You can see the status of Remote Device Detection from Mobile Joomla! Pro backend.
When you Mobile Joomla! subscription is over, your Remote Device Detection will expire. If you would like you mobile website to work on latest mobile devices, without any need for updates, you can renew your Mobile Joomla! Pro subscription.

If you do not renew your Mobile Joomla! Pro subscription, don't worry, in this case, our offline database will recognize mobile devices. However, after some time, it will not be up to date, therefore we'd recommend you to upgrade as soon as possible.
Please note that the Remote Device Detection has a limit of 200,000 detections/month currently, which should be well enough for most sites. We have also options for those who need more, though - if that is the case, please contact us to discuss further. Should your traffic approach the limit later on, we will contact you in advance.
Online Device Simulator
Testing mobile websites has always triggered many questions on our forums. We've now implemented a tool that will make it a lot faster and easier to tweak your site - with the mobile device simulators included in the Mobile Joomla! Pro backend you can check how your changes affect your site on the fly!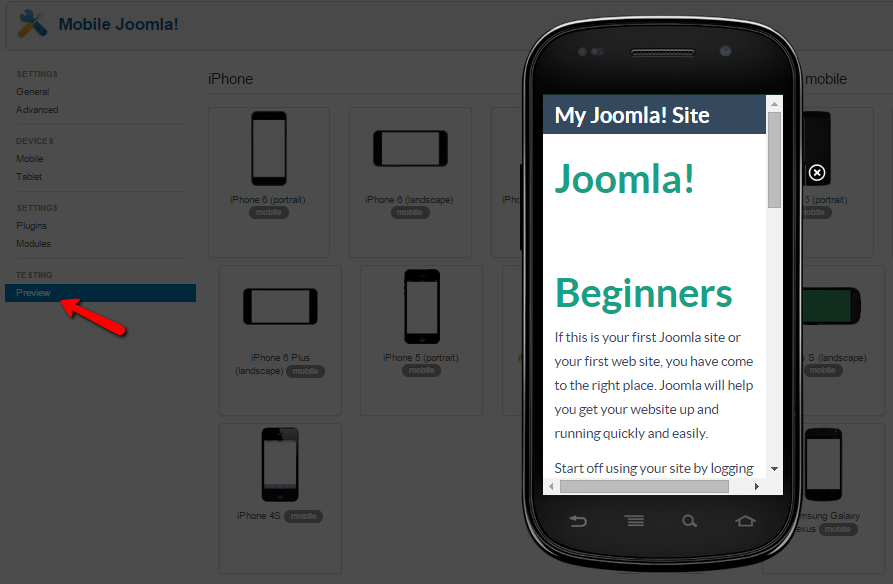 At the Mobile Joomla! Pro admin backend, you will see the Online Device Simulator link in each device category. Just click on the Online Device Simulator link to display your mobile website on given device.
Please note that despite the simulators should be quite accurate, since they are by definition simulators and not real devices or emulators, there may be slight differences between the view of the Online Device Simulator and the real device.
Tablet/iPad Support
Since tablets come with large screens and advanced browsers that can display almost every website, Mobile Joomla! does not interfere when a tablet visits your site. However, for those, who'd like to offer a complete tablet experience for iPad and other tablet devices, Mobile Joomla! Pro allows your to assign templates for visitors browsing your site with tablet devices.
In order to activate your tablet template, go to 'Tablet' tab at Mobile Joomla! Pro admin interface. Select your tablet supported template from the 'Template' dropdown menu of 'Settings' or 'Tablet' section.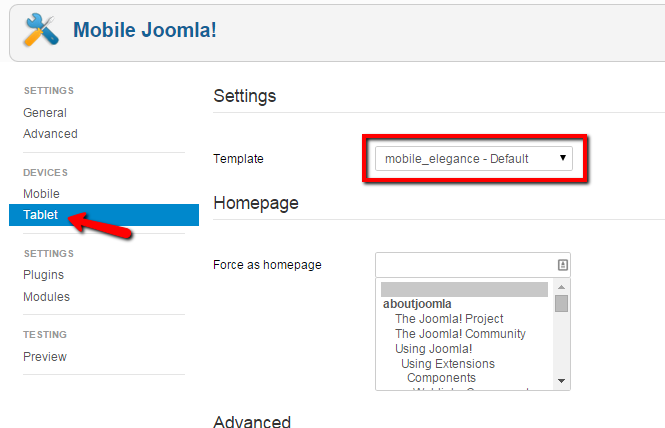 Please note that you'd ideally need a tablet supporting template, e.g. Elegance Mobile Joomla! template, to display well on tablets.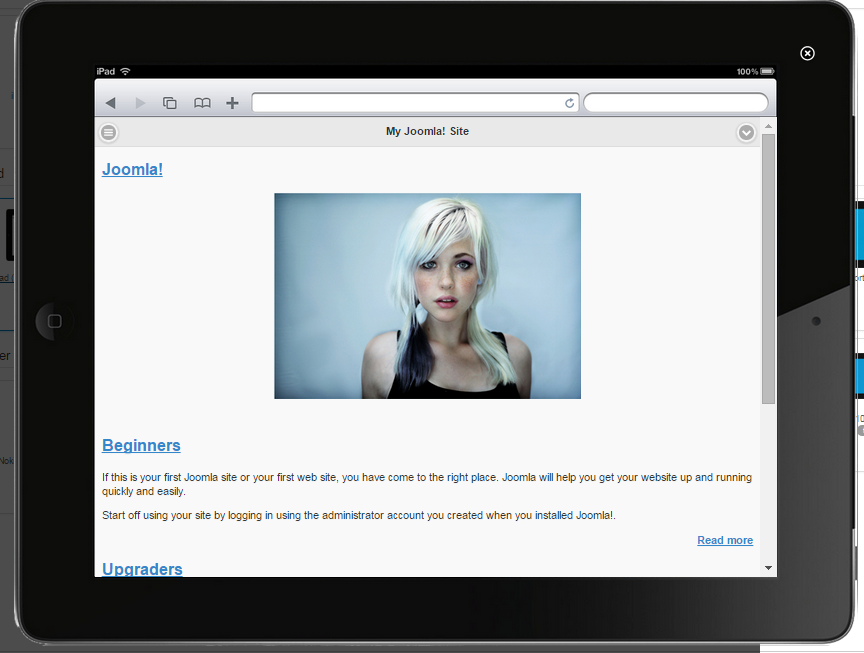 HD/Retina Images
Retina display, sound familiar? Millions of devices come with advanced screens that are capable of displaying high density and quality images. Mobile Joomla! Pro enables delivers HD/Retina quality images for such devices for the best user experience for your visitors.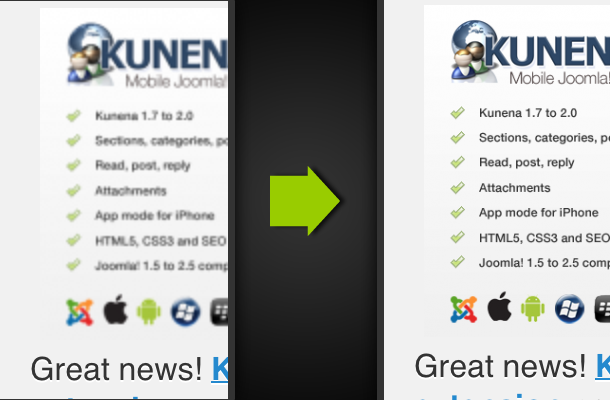 HD/Retina image support is enabled by default when you install Mobile Joomla! Pro. If you'd like to disable it for some reason, you can do it at 'Image' section of "General" tab at Mobile Joomla! Pro admin interface.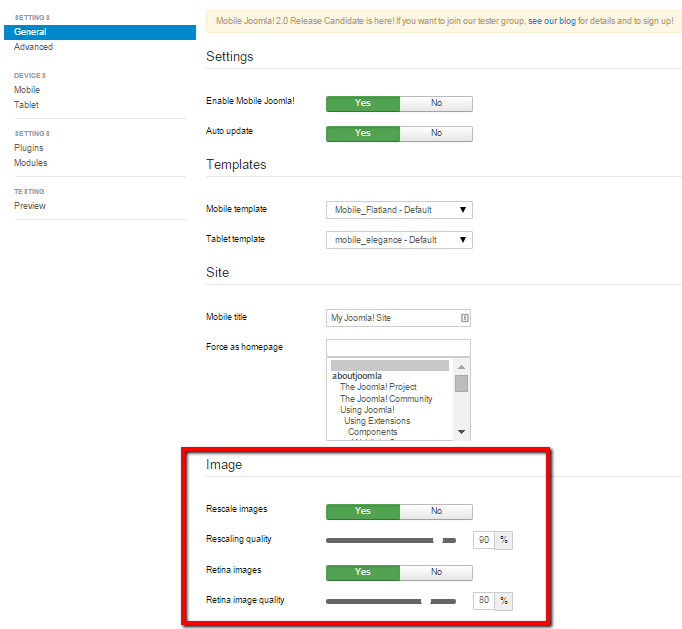 Backup & Restore Settings
With Mobile Joomla! Pro you can easily backup and restore your Mobile Joomla! Pro settings. Great feature also for admins and web developers who often have to migrate/copy their setup to use on different client projects.
Mobile Joomla! Pro allows you to backup & restore your settings, so that you can backup and restore your settings for the bad days, and at the same time use your settings on different websites with ease.

Backing up and restoring your Mobile Joomla! Pro settings is easy. Just go to "Backup & Restore" section under "Advanced" tab of Mobile Joomla! Pro backend. Click to "Backup" link to back your settings up, or browse and upload your previously backed up settings using 'Browse' and 'Restore" buttons consequently from Restore section.
No Support Ads
As you know Mobile Joomla! comes with Support Ads by default at the bottom of each page. In Mobile Joomla! Pro you won't get these ads by default.
Premium Support
As a Mobile Joomla! Pro user you will get access to our premium Mobile Joomla! Pro forum to make sure you get the best help for making your mobile website shine. For asking support, please follow our general guidelines as listed in 1.11 Asking for Help.
Licensing
All Mobile Joomla! software products i.e extensions, components, modules, plugins, templates, language files, documents are released under the GNU/GPLv2 license when it comes to the PHP code portions of the products. All images, CSS files, and included JavaScript elements are released under the Mobile Joomla! Proprietary License and they are NOT GPL unless otherwise specified. For details, please read Mobile Joomla! License Agreement.
Q: Do I need to purchase a Mobile Joomla! extension or template separately for each domain?
A: Yes. You need a new license for the extension or template for each and every website.
Q: Can I change the domain that my Mobile Joomla! extension or template is registered for?
A: Unfortunately we don't offer this option at the present time.
Q: Can I still use a Mobile Joomla! extension or template after my Subscription expires? Do I have to pay more?
A: When your Subscription expires, you can still keep using the template or extension you have downloaded during your Subscription period for your registered domain without any extra fee. However, you will lose access to downloads, updates, and premium support upon the expiry of your Subscription.
For more questions and answers, please see the Mobile Joomla! Licensing FAQ: http://www.mobilejoomla.com/documentation/17-other/90-licensing-faq.html
Installing and Setting Up
This section covers the installation and setup process of Mobile Joomla! Pro.
Installation
Make sure you backup your site and Mobile Joomla! settings before installing Mobile Joomla! Pro for stability and security reasons. Installation of Mobile Joomla! Pro is straight forward: Login to your administrator backend and install component package as any other Joomla! component or Mobile Joomla! extension.
Configuration
Mobile Joomla! Pro interface is identical to Mobile Joomla! interface, except those additional features. You can access Mobile Joomla! Pro backed from administrator backend or extensions menu.
Uninstalling Mobile Joomla! Pro
You can follow the normal Joomla! extension uninstallation process to uninstall Mobile Joomla! from your system.
Tip: Note that the Mobile Joomla! settings will be lost if you uninstall it.
First, we go to Extensions→Extension Manager.

Then click the 'Manage'. And search for Mobile Joomla!. Then click 'Uninstall'.